Euphrasia officinalis (L)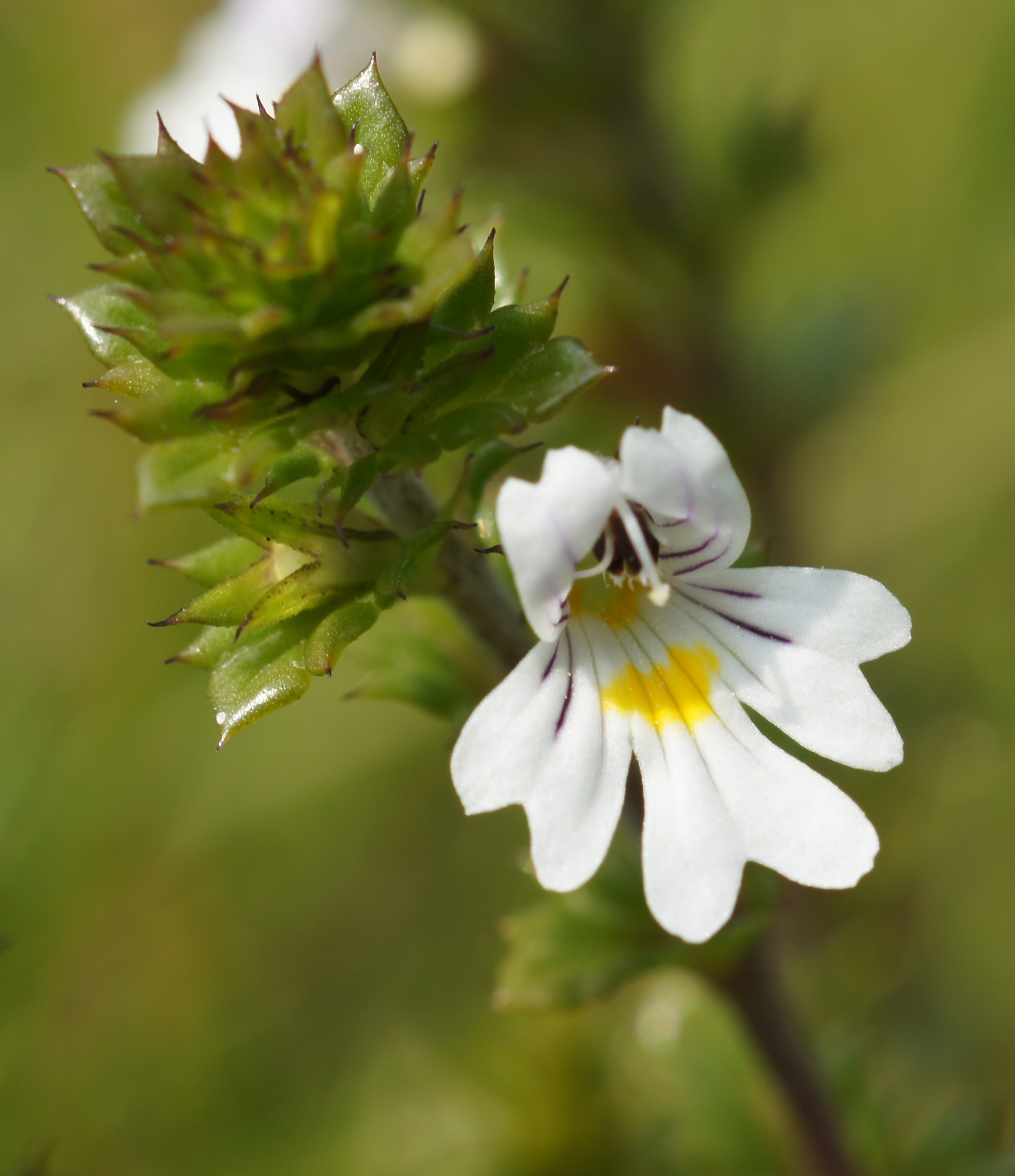 Synonyms: Euphrasy
Order: Scrophulariaceae
Description: Euphrasia is a native British and European plant; naturalised locally in parts of the USA. It is a small downy annual herb which grows in meadows, pastures and other grassy areas. Its square leafy stem, up to 15cm long, is often branched near the base, bears leaves opposite near the base and alternate above, about 1cm long and 0.5cm broad, lanceolate, with four or five teeth on each side. The flowers are small, white or red, occasionally yellow, and often tinged with purple streaks with a yellow spot in the throat; axillary, two-lipped, with four yellow stamens.
Parts used: aerial parts
Collection: during the flowering period in late summer and autumn.
Constituents: irodoid glycosides including aucubin, tannins, resins, phenolic acids, volatile oil, unidentified alkaloid, sterols, amino acids, choline
Actions: anti-catarrhal, astringent, anti-inflammatory, tonic
Indications: nasal catarrh, sinusitis, conjunctivitis (locally as an eye lotion).
Therapeutics and Pharmacology: Euphrasia is primarily used to treat eye irritation and inflammation, and is particularly beneficial for sore, itchy eyes which may have a discharge. It can be applied as a compress or eyewash or taken internally as an infusion. Its anti-inflammatory and astringent properties make it relevant in many conditions, particularly those involving the mucous membranes of the upper respiratory tract. Taken internally, it has a powerful anticatarrhal action and may be used in nasal catarrh, sinusitis and other congestive states. It is particularly valuable where there is profuse watery nasal discharge and is therefore indicated in hayfever and colds as well as measles when accompanied by these symptoms. It may be taken as a mouthwash or gargle, for inflammation of the mouth or throat.
Combinations: Euphrasia may be combined with Hydrastis and Hamamelis water as an eye lotion. In catarrhal conditions it combines well with Sambucus, Solidago or Hydrastis. Where there is infection, it should be supported internally with an antibacterial such as Echinacea.
Preparation and Dosage: (thrice daily)
Regulatory status GSL
Dried herb: 2-4g or by infusion
Liquid Extract: 1:1 in 25% alcohol, 2-4ml
Tincture: 1:5 in 45% alcohol, 2-6ml
Compress: a teaspoonful of dried herb in half a litre of water, boil for ten minutes and allow to cool. Leave compress in place for 15 minutes and repeat several times a day with fresh compress each time.
Additional Comments: According to the Doctrine of Signatures ' the purple and yellow spots and stripes of the Eyebright doth very much resemble the diseases of the eye, as bloodshot..... by which signature it hath been found out that this herb is effectual in the curing of the same'.
Bibliography
BHMA 1983 British Herbal Pharmacopoeia, BHMA, Bournemouth.
Grieve, M. 1931 A Modern Herbal, (ed. C.F. Leyel 1985), London.
Hoffmann, D. 1990 The New Holistic Herbal, Second Edition, Element, Shaftesbury.
Lust, J. 1990 The Herb Book, Bantam, London.
Mabey, R. (ed.) 1991 The Complete New Herbal, Penguin, London.
Mills, S.Y. 1993 The A-Z of Modern Herbalism, Diamond Books, London.
Ody, P. 1993 The Herb Society's Complete Medicinal Herbal, Dorling Kindersley, London.
Wren, R.C. 1988 Potter's New Cyclopaedia of Botanical Drugs and Preparations, C.W.Daniel, Saffron Walden.