This page includes a selection of seasonal recipes and crafts using herbs which you can buy or gather yourself. When collecting herbs you should avoid those areas where contamination may be a problem, for example roadsides (vehicle emissions) and areas close to agricultural land (pesticides, herbicides and other agri-chemicals). You should also be aware that it is illegal to uproot wild plants in the UK. Please collect your blossoms, berries and leaves thoughtfully - don't annihilate small plant communities by gathering all your plants from the same place, and NEVER disturb protected species. Take a good field guide with you so that you are able to accurately identify the plants - if in doubt, don't pick it!
"Better to hunt in fields for health unbought, than fee the doctor for a nauseous draught"
John Dryden
---
Rosehip Syrup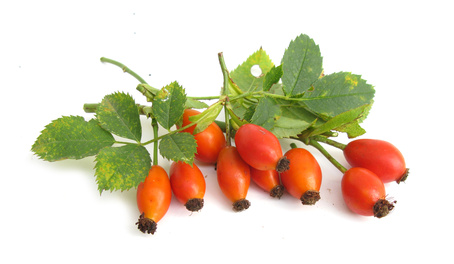 Ingredients:
500g (20 ounces) Rosehips
650g (26 ounces) granulated sugar
Pick over the rosehips, removing the stalks, then rinse in cold water. Place 800mls (1 and a half pints) of water in a pan and bring to the boil. Mince or chop the rosehips and add them to the pan of boiling water, cover, then bring back to the boil. Take pan off the heat and leave to stand for 15 minutes. Pour through a scalded jelly bag or muslin and leave to drip for an hour or so. Set aside the strained juice. Bring another 800mls of water to the boil, add the rosehip pulp again, and repeat the boiling process. Tip the mixture back into the jelly bag but this time allow to drain overnight. Discard the pulp then combine both lots of strained juice in a pan. Add the sugar and heat, stirring until dissolved. Boil for 2-3 minutes, then immediately pour into warmed, sterilised bottles and seal.
---
Elderflower cordial
You'll need 25 heads of elderflowers (rinse them well first), 2kg sugar, 2 litres water and 2 large sliced lemons. Put the sugar, water and lemon in a pan and heat gently, stirring continuously, until the sugar has dissolved. Allow to cool then pour over the elderflowers. Leave to stand in a covered container for 2 days then strain and bottle (seal loosely in case of fermentation - bottles with corks are safest!). Store in a cool, dark place. To drink, dilute with three parts chilled mineral water to one part cordial. Use sparkling water if you prefer for elderflower 'champagne'.
---
Tabbouleh
I first encountered this Middle Eastern salad in Lebanon.
Ingredients: 125g (4oz) Cracked wheat (burghul)
75mls (3fl.oz) olive oil
Juice of 3 lemons
1 large bunch each fresh parsley and mint
1 medium red onion
3 tomatoes
Soak the burghul in cold water for 20 minutes then rinse and drain, squeezing out the excess water. Place in a bowl, add the lemon juice and leave to soak for 10 minutes before adding the olive oil. Finely chop the herbs, tomatoes and onion, add to the burghul and mix thoroughly. Season with pepper.
---
Nettle, Dandelion and Burdock Beer
Ingredients: 450g young nettles
120g dandelion leaves
120g fresh, sliced or 60g dried burdock root
15g root ginger, bruised
2 lemons
4.5 litres water
450g plus 4tsp. demerara sugar
30g cream of tartar
Brewer's yeast (see manufacturer's instructions for amount to use)
Put the herbs and the thinly pared rinds of the lemons into a large pan with the water. Bring to the boil and simmer for 30 minutes. Put the lemon juice, 450g of sugar and the cream of tartar into a large container and add the strained liquid from the pan, squeezing the herbs well. Stir to dissolve the sugar and cool to blood heat. Sprinkle in the yeast. Cover the beer and leave to ferment in a warm place for three days. Rack off the beer and bottle it, adding half a teaspoon of sugar per pint. Leave the bottles until the beer is clear - about one week.
---
Sorrel & Cider Sauce © John Timpany. ( English Peasant Cookery)
1" cube of butter
¼ lb sorrel (Wild sheep sorrel. Rumex acetosella. Sometimes called red sorrel, sour weed, and field sorrel)
2 finely chopped garlic cloves.
2 finely chopped spring onions.
½ Spanish onion.
½ cup sweet cider
1 tbl flour
¼ pint stock (chicken/lamb/beef whatever you are cooking – for vegetarian you could add grated cheese just prior to serving)
Milk as needed.
Strip sorrel leaves from their stems, wash & rough chop or tear. Place in non aluminium & non cast iron saucepan (see note below) with butter, and add onions, garlic & spring onions. Lightly fry till the sorrel turns a deep shade of sage green and the onions turn almost transparent. Spoon out the contents onto a chopping board, and using a rocking motion with a large cook knife, chop to a puree, then return to the saucepan. Stir in the stock & cider, and bring to the boil. Leave to simmer for 15 minutes.
In a measuring jug stir milk into the flour slowly until it turns to paste similar to single cream, then tip into the boiling contents of the pan stirring continuously till it all comes to the boil, then turn down to simmer. The contents of the pan will thicken to a syrup consistency. Too thin add more flour & milk mix. Too thick add more milk. The sorrel gives a sharp citrous taste, contrasted by the cider which gives a sweet taste.
Cautionary Note: All sorrels should be consumed in moderation, as they are high in oxalic acid which can cause kidney stones in some individuals. If you are prone to hyperacidity, you probably should avoid sorrel as its high acidity may cause gastric upset. If you suffer from gout or kidney stones, or if you have a history of kidney disease, you should not consume sorrel. Some authorities have also recommended that people afflicted with arthritis or rheumatism should avoid eating sorrel.
Don't cook sorrel in cast iron pots as the oxalic acid in the leaves will react with the metal, and the leaves will have an unpleasant metallic taste. Also avoid using aluminum cookware, as the oxalic acid could free toxic amounts of aluminum ions. Use stainless steel utensils and cookware when preparing sorrel, and/or hard anodised cookware.
Avoid sorrel tea because of the oxalates and also because sorrel acts as a diuretic.
---
Orange and clove pomander
You will need:
a ripe, thick-skinned orange (Seville oranges are best)
around 30g whole cloves
1 tsp powdered cinnamon
1 tsp powdered orris root
tape
ribbon
pins
cocktail stick
Divide the orange into 4 equal sections with the tape and pin in place. Press the cloves into the orange, first making a hole with a cocktail stick. Follow the edges of the tape and work towards the centre of each section. When the orange is completely covered with cloves, place in a plastic bag with the cinnamon and orris mixture and shake until it is completely dusted. Wrap the pomander loosely in tissue paper and leave in the airing cupboard for 10 days then remove the tape. Leave for a further 1-2 weeks (until the skin is dry) and pin a pretty ribbon in place. The pin can be hidden with a bow.
---
Scented bath salts
To 200g of coarse sea salt or Epsom salts add any of the following:
Rosemary or pine needles, Lavender flowers, Rose petals, Marigold petals
And 20 drops of an essential oil of your choice. The salts may also be coloured with pharmaceutical or food grade colourants.
---
Oatmilk bathing sponge
Take a couple of large handfuls of porridge oats or oatmeal. Mix in a selection of flower petals such as chamomile, rose, lavender and marigold, and 20 drops of essential oils of your choice. Tie the mixture up in a muslin square and hang over the hot tap while your bath is running. Once in the bath, use as a sponge for smooth, delicately scented skin.
---
Fruity lip balms
You will need:
30g beeswax granules
20g cocoa butter
50mls sweet almond oil
50 drops essential oil, e.g lemon, lime, orange, or a blend
For an antiseptic lip balm, add oils such as tea tree, lavender or Melissa
Heat the waxes and oils together in a double boiler; stir until fully melted. Add the essential oil. Half fill containers and leave for 10 minutes during which time the contents will contract slightly. Top up and leave for a few minutes before sealing container.
---
Bouquet garni
Take 2 spr
igs of thyme, 2 sprigs of marjoram and 4 sprigs of parsley. Wrap in one or two fresh bay leaves and tie with fine string. Use to flavour stews and casseroles.
---
Herbes de Provence
1 part basil
1 part rosemary
1 part savory
1 part tarragon
1 part thyme
Wrap in small muslin bags and use to flavour soups, stews and casseroles.
---
Washing Cashmere Garments (with thanks to Elizabeth Wilson of Montrose for this recipe)
150mls methylated spirits
25mls eucalyptus essential oil
250g soap flakes
Mix ingredients together and store in a glass jar or bottle. To use, place 2 tablespoonfuls of the mixture in a bucket and dissolve in a little hot water. Top up the bucket with cold water. Immerse your cashmere garment for one hour. Remove garment. Do not rinse, but gently squeeze out as much of the water as possible then lay flat to dry.
---
Edible flowers
Why not brighten up your summer salads with a few flowers and petals.
The following are edible: pot marigold petals, borage flowers, nasturtium flowers and leaves, squash & courgette flowers, chive and spring onion flowers, wild rose petals, chamomile, elderflower, cornflower and honeysuckle (although the berries are poisonous).
Make sure you are able to identify the plants correctly.
---
[ Back to top ]
---