Commiphora molmol (Engl.)
Synonyms: Commiphora myrrha (Holmes), Balsamodendron myrrha, gum myrrh tree, Commiphora resin, guggal gum or resin.
Order: Burseraceae
Description: Commiphora is a shrub or small tree indigenous to desert areas of North Africa and the Red Sea shores of Saudi Arabia. It grows up to 3m in height and has tough, knotted branches and spine-tipped twigs sparsely covered with small, trifoliate, irregular leaves. The oleo-gum resin exudes from fissures or incisions in the bark and is collected as irregular masses.
Part used: Oleo-gum resin from the stems; essential oil.
Constituents: up to 17% volatile oil (including m-cresol, eugenol, formic acid, acetic acid and heerabolone); up to 40% resin (including commiphoric acids); up to 60% gums and bitter principle.
Actions: antimicrobial, antifungal, astringent and healing, tonic and stimulant, carminative, stomachic, anticatarrhal, expectorant, diaphoretic, vulnerary, locally antiseptic, immune stimulant, bitter, circulatory stimulant, anti-inflammatory, antispasmodic
Indications: aphthous ulcers, pharyngitis, respiratory catarrh, furunculosis; topically for wounds and abrasions
Therapeutics and Pharmacology: Commiphora achieves its antimicrobial action by stimulating the production of white blood corpuscles and also by its direct antimicrobial effect. It is of great value in the treatment of mouth infections such as ulcers, gingivitis and pyorrhoea, as well as the catarrhal problems such as pharyngitis and sinusitis. Systemically, it is used in the treatment of boils and similar conditions as well as glandular fever and brucellosis. Externally, it is healing and antiseptic for wounds and abrasions and is suitable as a douche. It is a useful tonic in dyspepsia. The oil is used in chest rubs for bronchitis and catarrhal colds.
Combinations: Commiphora may be combined with Echinacea for infections and as a mouthwash for ulcers, or with Echinacea and Baptisia in tonsillitis and pharyngitis. It can be used with Achillea, Sambucus, Hyssopus and Capsicum in the common cold. Tincture of myrrh with Achillea can be painted onto infected gums.
Caution: avoid in pregnancy as it is a uterine stimulant.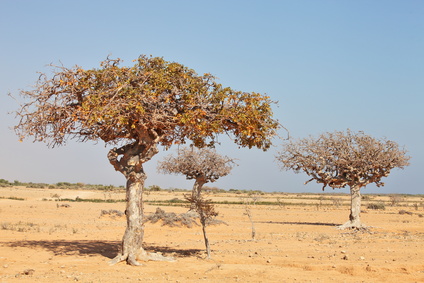 Preparation and Dosage:
Regulatory Status: GSL
Infusion: Dissolves in water with difficulty; should be powdered well. Pour a cup of boiling water onto 1-2 teaspoons and infuse for 10-15 minutes. Drink three times a day.
Gargle: Steep 1 teaspoon myrrh and 1 teaspoon boric acid in half a litre of boiling water. Strain after 30 minutes. Alternatively use 5ml tincture in a tumblerful of water.
Tincture: 1-2ml three times a day. Used for infectious, feverish conditions, from head colds to glandular fever. It is ideal for upper respiratory catarrh and can be added to expectorant mixtures.
Capsules: more palatable than the tincture; take one 200mg capsule up to five times a day.
Douche: use the diluted tincture for thrush.
Oil: dilute 10 drops in 25ml water and apply to wounds and chronic ulcers or in lotions to haemorrhoids.
Chest rub: 1ml oil in 15ml almond or sunflower oil for bronchitis and colds with thick phlegm.
Pessaries: 10 drops of oil to 30g cocoa butter in a 24-pessary mould. Use for thrush.
Additional Comments: Myrrh has been used for centuries as an ingredient in incense, perfumes, and for embalming and fumigations in Ancient Egypt. In folk tradition it was used for muscular pains and in rheumatic plasters. Called mo yao in China, it has been used since at least 600B.C. primarily as a wound herb and blood stimulant. Gerard said of Myrrh ' the marvellous effects that it worketh in newe and greene wounds were heere too long to set downe...' Myrrh oil, distilled from the resin, has been used since ancient Greek times to heal wounds.
Bibliography
BHMA 1983 British Herbal Pharmacopoeia, BHMA, Bournemouth.
Bradley, P.R. (ed.) 1992 British Herbal Compendium, Volume 1, BHMA, Bournemouth.
Gerard, J. 1633 The Herball or Generall Historie of Plantes, Facsimile Edition (1975), Dover Publications, New York.
Grieve, M. 1931 A Modern Herbal, (ed. C.F. Leyel 1985), London.
Hoffmann, D. 1990 The New Holistic Herbal, Second Edition, Element, Shaftesbury.
Lust, J. 1990 The Herb Book, Bantam, London.
Mills, S.Y. 1993 The A-Z of Modern Herbalism, Diamond Books, London.
Ody, P. 1993 The Herb Society's Complete Medicinal Herbal, Dorling Kindersley, London.
Weiss, R.F. 1991 Herbal Medicine, Beaconsfield Arcanum, Beaconsfield.
Wren, R.C. 1988 Potter's New Cyclopaedia of Botanical Drugs and Preparations, C.W.Daniel, Saffron Walden.