Chondrus crispus (L)
Synonyms: carragheen, pearl moss, carrahan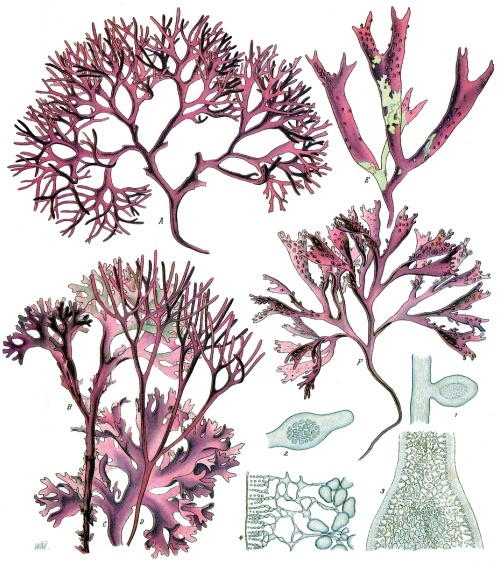 Order: Gigartinaceae/Rhodophyta
Description: Chondrus is a seaweed or red alga, purple to green when fresh but dried to yellow-brown translucent forked fronds or thalli, 5-25cm long. It is found on the Atlantic coasts of Ireland, Europe and the United States.
Parts used: dried thallus
Collection: Chondrus may be collected from the rocky coasts of north-west Europe at low tide all year round.
Constituents: up to 80% mucilage, polysaccharide complexes (carrageenans - up to 80%), protein, iodine, bromine, iron, sulphur, other mineral salts, vitamins A and B1.
Actions: demulcent, nutritive, relaxing expectorant, antitussive, emollient
Indications: convalescence, cachexia, dyspepsia, gastritis, bronchitis, cystitis; topically as a lotion for chapped hands and dermatitis.
Therapeutics and Pharmacology: The large quantity of mucilage in Chondrus makes it a valuable remedy for the treatment of digestive conditions where a demulcent is required, such as gastritis and ulcers. Carrageenan is reported to reduce gastric secretions. It is traditionally given as a nourishing food for invalids and can be boiled with milk and made into a dessert. Its main use is in respiratory problems such as bronchitis, and it has been used in the past to treat tuberculosis.
Combinations: Chondrus may be combined with Cinnamomum and Glycyrrhiza in bronchial catarrh, or with Althaea root and Ballota in dyspepsia.
Caution: Polluted coastal areas should be avoided when gathering this remedy because of the risk of heavy metal contamination.
Preparation and Dosage: (thrice daily)
Regulatory status GSL
Dried thallus: 5-10g or by infusion
Additional Comments: The mucilage present in Irish moss is used in large quantities by the food industry to make jellies or aspic and as a smooth binder. It finds a use in cosmetics as a skin softener.
Bibliography
BHMA 1983 British Herbal Pharmacopoeia, BHMA, Bournemouth.
Grieve, M. 1931 A Modern Herbal, (ed. C.F. Leyel 1985), London.
Hoffmann, D. 1990 The New Holistic Herbal, Second Edition, Element, Shaftesbury.
Lust, J. 1990 The Herb Book, Bantam, London.
Mabey, R. (ed.) 1991 The Complete New Herbal, Penguin, London.
Mills, S.Y. 1993 The A-Z of Modern Herbalism, Diamond Books, London.
Polunin, M. and Robbins, C. 1992 The Natural Pharmacy, Dorling Kindersley, London.
Wren, R.C. 1988 Potter's New Cyclopaedia of Botanical Drugs and Preparations, C.W.Daniel, Saffron Walden.