Piscidia erythrina (L)
Synonyms: Piscidia piscipula (L.), fish poison tree, fish fuddle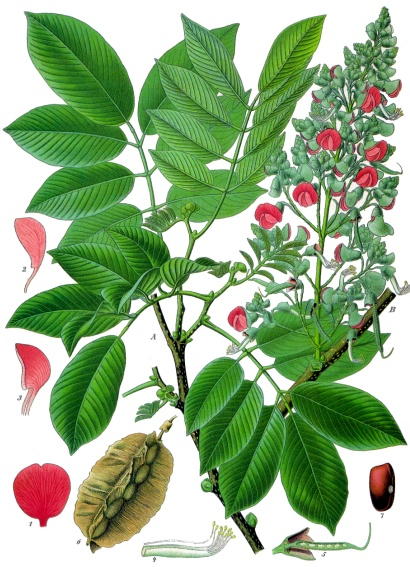 Order: Leguminosae
Description: Piscidia is a shrub found in tropical America and the West Indies
Parts used: the stem bark
Constituents: resins (piscidin, jamaicin, ichthynone), amorphous alkaloid, an isoflavonoid (sumatrol), rotenones (lisetin, piscerythrone and piscidone), organic acids (piscidic, fukiic, methylfukiic), beta-sitosterol, around 2% tannins
Actions: sedative, anodyne, analgesic, antitussive, spasmolytic, anti-inflammatory
Indications: neuralgia, migraine, toothache, insomnia, spasmodic dysmenorrhoea. Specifically indicated in insomnia due to neuralgia or nervous tension.
Therapeutics and Pharmacology: Piscidia is a powerful sedative, used in the treatment of painful conditions such as neuralgia and migraine. It may also be used for the relief of ovarian and uterine pain. Its main use is in insomnia where this is due to nervous tension or pain. Recent research has demonstrated that the bark can calm the cough reflex and reduce fevers.
Combinations: Piscidia combines well with Humulus and Valeriana in insomnia, and is used with Viburnum prunifolium in dysmenorrhoea.
Caution: This remedy should be used only under the supervision of a qualified practitioner. It may cause gastric disturbances and nausea. It should not be used in pregnancy, bradycardia or cardiac insufficiency.
Preparation and Dosage:
Regulatory Status: GSL Schedule 1
Dried root bark: 2-4g or by decoction
Liquid Extract: 1:1 in 30% alcohol, 1-2ml
Liquid Extract (B.P.C. 1934) 1:1 in 60% alcohol, 2-8ml
Tincture: 1:5 in 45% alcohol, 5-15ml
Additional Comments: In South America the pounded leaves and young branches are used to stupefy fish so they can be easily caught; rotenone impairs their oxygen consumption. The plant is toxic only to cold-blooded creatures. Rotenone is also used as an insecticide.
Bibliography
Bradley, P.R. (ed.) 1992 British Herbal Compendium, Volume 1, BHMA, Bournemouth.
BHMA 1983 British Herbal Pharmacopoeia, BHMA, Bournemouth.
Grieve, M. 1931 A Modern Herbal, (ed. C.F. Leyel 1985), London.
Hoffmann, D. 1990 The New Holistic Herbal, Second Edition, Element, Shaftesbury.
Mabey, R. (ed.) 1991 The Complete New Herbal, Penguin, London.
Mills, S.Y. 1993 The A-Z of Modern Herbalism, Diamond Books, London.
Polunin, M. and Robbins, C. 1992 The Natural Pharmacy, Dorling Kindersley, London.
Wren, R.C. 1988 Potter's New Cyclopaedia of Botanical Drugs and Preparations, C.W.Daniel, Saffron Walden.