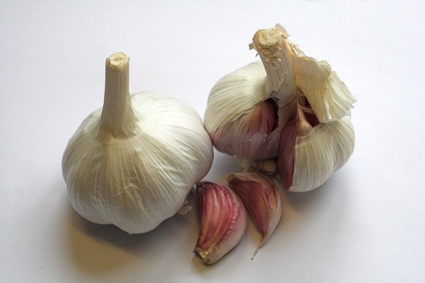 Garlic (Allium sativum L.)
Parts used: dried bulb
Constituents: volatile oil (including alliin, allicin), enzymes, B Vitamins, minerals, flavonoids
Pharmacopoeia Standard: powdered bulb should contain no less than 0.45 per cent of allicin.
Actions: antimicrobial, antifungal, expectorant, diaphoretic, vasodilatory, antioxidant, hypotensive, lowers blood viscosity, lowers blood cholesterol and triglycerides, hypoglycaemic, antihistaminic, antiparasitic, anthelmintic
Indications: atherosclerosis, high cholesterol, respiratory tract infections and catarrh, fungal skin infections
Applications: Garlic has been shown to lower blood levels of cholesterol and triglycerides. Low-density lipoprotein (LDL) levels decrease and high-density lipoproteins (HDL) increase, creating a favourable balance. It is also of value in the treatment of mild hypertension. Improved blood fluidity and vasodilation improves blood flow generally, of benefit to anyone at risk of cardiovascular disease. Long-term treatment is recommended in the prevention of atherosclerosis and hypercholesterolaemia. Garlic has a marked antibacterial and antiviral effect. Topically, it can be effective against fungal skin infections.
Safety: Excessive doses of garlic may irritate the stomach. It is inadvisable for people about to undergo surgery or those taking anti-coagulant drugs such as warfarin to take garlic without first seeking advice.
Dosage
: up to 500mg daily