Chionanthus virginicus (L)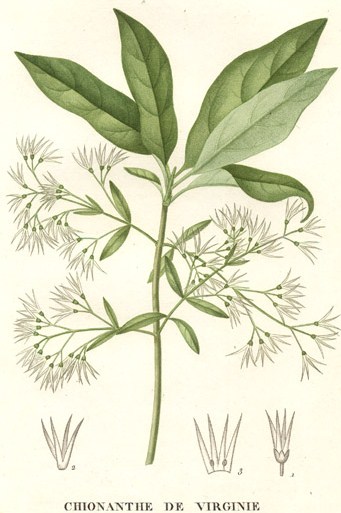 Synonyms: old man's beard, grey beard tree, snowdrop tree, snowflower, white fringe, poison ash tree
Order: Oleaceae
Description: Chionanthus grows from two to eight metres in height in the mid- and southern USA and in New England. The leaves are opposite, smooth, and oblong to oval in shape. In May and June, when the leaves are only partially developed, the fragrant white flowers, from whose fringe-like petals the tree derives its name, appear in dense panicles. The fruit is an oval purple drupe.
Parts used: dried root bark, bark
Collection: The roots are unearthed in spring or autumn.
Constituents: a lignin glycoside (phyllyrin), saponins (including chionanthin, a haemolytic saponin glycoside)
Actions: laxative, cholagogue, antemetic, hepatic stimulant, alterative, diuretic, bitter tonic
Indications: hepatic disease, cholecystitis, duodenitis, glycosuria of hepatic or alimentary origin, splenic enlargement, portal hypertension.
Therapeutics and Pharmacology: Chionanthus may be safely used in all liver problems, particularly when they have developed into jaundice. It is a specific remedy for the treatment of cholecystitis and a valuable part of treating gallstones. It aids the liver in general and is often used as part of a wider treatment for the whole body. Through its action of releasing bile it acts as a gentle and effective laxative. It also stimulates the appetite and gastric secretions. Chionanthus may also be used in the treatment of intermittent fevers and to strengthen the constitution after chronic debilitating diseases such as glandular fever. The bark may be used as a poultice for healing wounds and skin irritations and inflammations.
Combinations: Chionanthus can be combined with Echinacea in Weil's disease and acute parenchymal disease of the liver. It also combines well with Berberis, Euonymus or Dioscorea for the treatment of liver and gallbladder diseases..
Preparation and Dosage: (thrice daily)
Regulatory status GSL
Dried herb: 2-4g or by infusion
Liquid Extract: 1:1 in 25% alcohol, 1-3ml
Tincture: 1:5 in 45% alcohol, 2-3ml
Bibliography
BHMA 1983 British Herbal Pharmacopoeia, BHMA, Bournemouth.
Grieve, M. 1931 A Modern Herbal, (ed. C.F. Leyel 1985), London.
Hoffmann, D. 1990 The New Holistic Herbal, Second Edition, Element, Shaftesbury.
Lust, J. 1990 The Herb Book, Bantam, London.
Mabey, R. (ed.) 1991 The Complete New Herbal, Penguin, London.
Ody, P. 1993 The Herb Society's Complete Medicinal Herbal, Dorling Kindersley, London.
Wren, R.C. 1988 Potter's New Cyclopaedia of Botanical Drugs and Preparations, C.W.Daniel, Saffron Walden.