Ilex paraguarensis (St.Hil.)
Synonyms: Paraguay herb, Ilex mate, Houx mate, Gon gouha, Paraguay tea, Mate, Jesuit's Brazil tea, St. Bartholomew's tea
Order: Aquifoliaceae
Description: A large, white-flowered shrub native to Brazil, Argentina and Paraguay, growing up to 6m tall, Ilex grows wild near streams but is largely cultivated in South America for the drink obtained by infusing the leaves. The leaves are alternate, large, oval or lanceolate and broadly toothed. The fruit is a red berry-like drupe.
Parts used: leaves
Collection: December to August.
Constituents: xanthine derivatives, caffeine, theobromine, volatile oil, polyphenolics, tannins, chlorogenic acid, vanillin, vitamin C.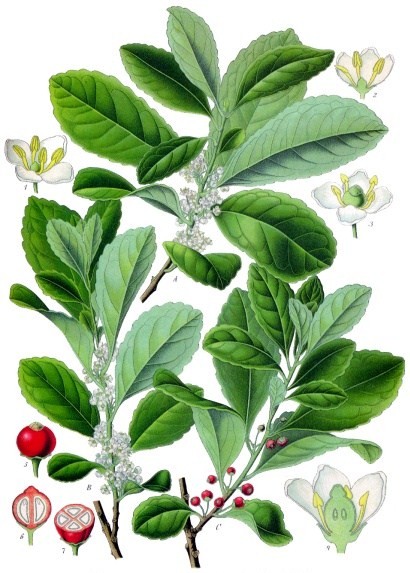 Actions: stimulant to central nervous system, thymoleptic, diuretic, antirheumatic, mild analgesic, tonic, depurative
Indications: psychogenic headache, fatigue, nervous depression, rheumatic pain
Therapeutics and Pharmacology: Ilex is combined with other remedies in the treatment of psychogenic headache, fatigue, mild nervous depression and rheumatic pains. It stimulates mental and physical energy. Its beneficial effects are mainly due to caffeine and theobromine.
Caution: Excessive consumption of the tea can be purgative and emetic.
Preparation and Dosage: (thrice daily)
Regulatory Status: GSL
Dried leaves: 2-4g or by infusion
Liquid extract: 1:1 in 25% alcohol, 2-4ml.
Additional Comments: Mate is derived from the name of the vessel in which the herb is infused. Burnt sugar or lemon juice is usually added to it. It is sucked through a tube with a bulb strainer at the end and the cup is passed round. Charles Darwin called it 'the ideal stimulant'.
Bibliography
BHMA 1983 British Herbal Pharmacopoeia, BHMA, Bournemouth.
Grieve, M. 1931 A Modern Herbal, (ed. C.F. Leyel 1985), London.
Lust, J. 1990 The Herb Book, Bantam, London.
Wren, R.C. 1988 Potter's New Cyclopaedia of Botanical Drugs and Preparations, C.W.Daniel, Saffron Walden.