Scutellaria lateriflora (L)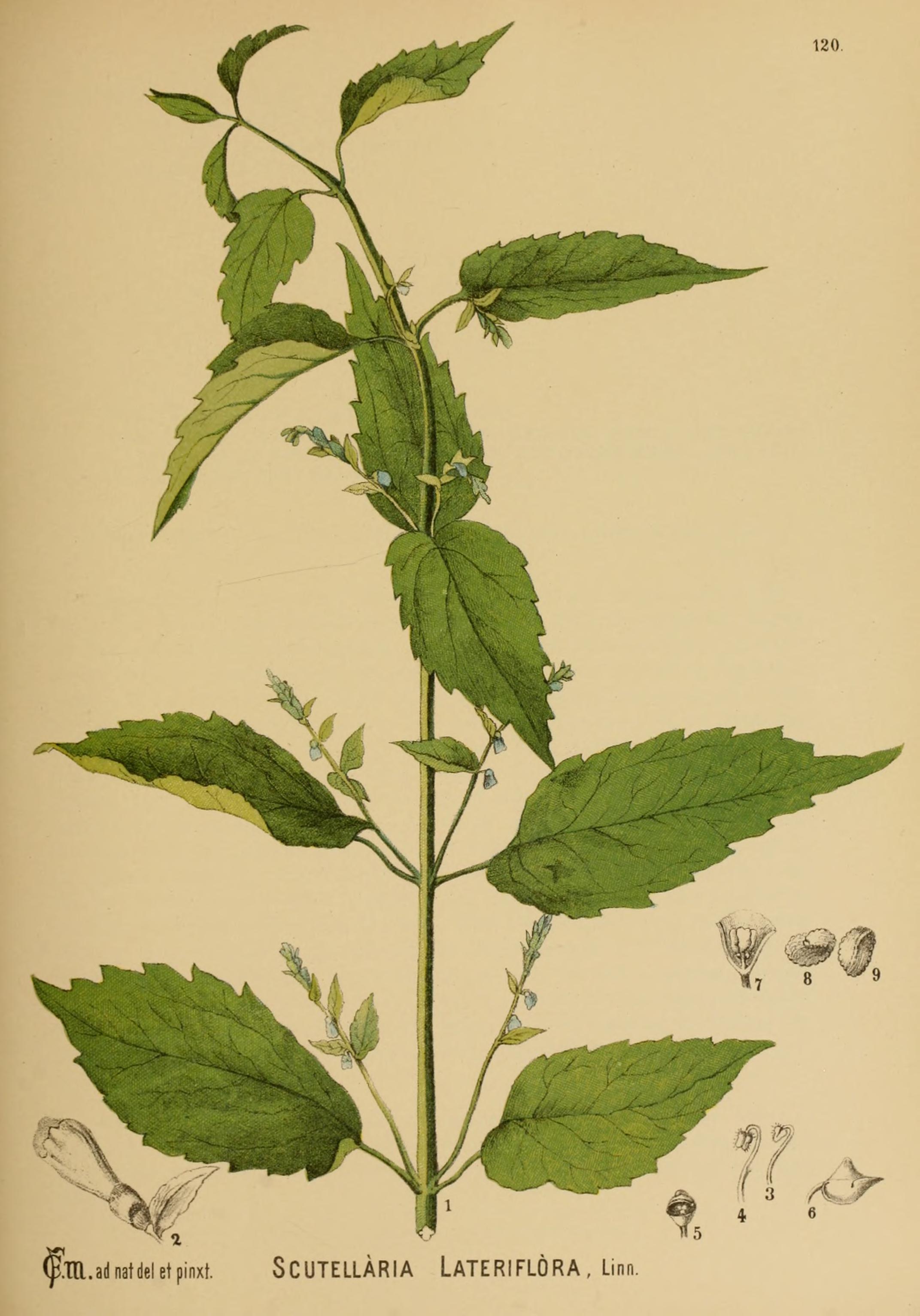 Synonyms: scullcap, Quaker bonnet, blue pimpernel, side-flowering skullcap, hoodwort, helmet flower, madweed, mad-dog weed, blue scullcap, Virginian scullcap
Order: Labiatae
Description: Scutellaria is a perennial which grows up to a metre tall, with opposite, serrated ovate leaves and one-sided racemes of pale blue flowers which bloom from July to September. These are two-lipped, the upper in the shape of a helmet and the calyx surviving to cover the seeds. It grows in wet ground in north-eastern North America.
Parts used: aerial parts
Collection: during the late flowering period in August and September.
Constituents: flavonoid glycosides (scutellarin and scutellarein), iridoids (including catalpol), trace of volatile oil, waxes, tannins, bitter principles
Actions: anticonvulsive, sedative, nervine, central nervous relaxant and restorative, antispasmodic
Indications: chorea, hysteria, nervous tension states. Specifically indicated in grand mal.
Therapeutics and Pharmacology: Scutellaria relaxes states of nervous tension and has a specific use in the treatment of seizure and hysterical states. It is of value in all exhausted or depressed conditions and may be used to treat pre-menstrual tension. It is useful in insomnia and nervous headaches. Its bitter taste is also strengthening and stimulating to the digestive system.
Combinations: Scutellaria combines well with Humulus and/or Passiflora.
Caution: This remedy is difficult to obtain in pure unsubstituted form in the U.K.
Preparation and Dosage: (thrice daily)
Regulatory Status: GSL
Dried plant: 1-2g or by infusion
Liquid Extract: 1:1 in 25% alcohol, 2-4ml
Tincture: 1:5 in 45% alcohol, 1-2ml
Additional Comments: Native Americans used Skullcap to promote menstruation, and it was reputed to be effective against rabies, hence some of its common names. It is a traditional European treatment for epilepsy. Homeopaths have reported some success in the use of this plant to treat chronic fatigue syndrome. The common skullcap, Scutellaria galericulata (L.), of northern temperate zones is often used as a substitute and shares many of the effects of S. lateriflora. Chinese physicians use the root of Scutellaria baicalensis (Georgi), or huang qin, as an antibacterial, diuretic, antispasmodic and promoter of bile flow. It is helpful for skin and urinary tract infections and is also used where hypertension is related to over-heated conditions.
Bibliography
BHMA 1983 British Herbal Pharmacopoeia, BHMA, Bournemouth.
Grieve, M. 1931 A Modern Herbal, (ed. C.F. Leyel 1985), London.
Hoffmann, D. 1990 The New Holistic Herbal, Second Edition, Element, Shaftesbury
Lust, J. 1990 The Herb Book, Bantam, London.
Mabey, R. (ed.) 1991 The Complete New Herbal, Penguin, London.
Mills, S.Y. 1993 The A-Z of Modern Herbalism, Diamond Books, London.
Ody, P. 1993 The Herb Society's Complete Medicinal Herbal, Dorling Kindersley, London.
Polunin, M. and Robbins, C. 1992 The Natural Pharmacy, Dorling Kindersley, London.
Wren, R.C. 1988 Potter's New Cyclopaedia of Botanical Drugs and Preparations, C.W.Daniel, Saffron Walden.