Melilot (Melilotus officinalis (L) Pall.)
Parts used: dried flowering tops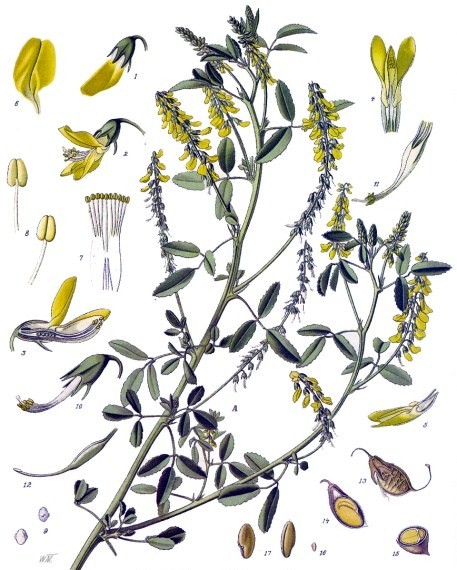 Constituents: coumarin derivatives, kaempferol and quercitin glycosides, triterpene saponins, phenolic acids, volatile compounds.
Actions: venous tonic, vulnerary, anticoagulant, anti-oedema
Indications: painful, heavy legs, varicose veins, phlebitis, haemorrhoids, period pains, nocturnal leg cramps
Applications: Melilot is used in the treatment of chronic venous insufficiency, with symptoms such as pain and heaviness in the legs, night cramps and swelling. Its anticoagulant action reduces the risk of thrombosis. It also offers support for lymphatic congestion as well as period pain related to congestion.
Safety: Contraindicated in conjunction with anti-coagulant medication such as warfarin
Dosage
: 350mg three times a day