Senecio aureus (L)

Synonyms: golden senecio, squaw weed, golden groundsel, cocash weed, coughweed, ragwort, golden ragwort, grundy swallow
Order: Compositae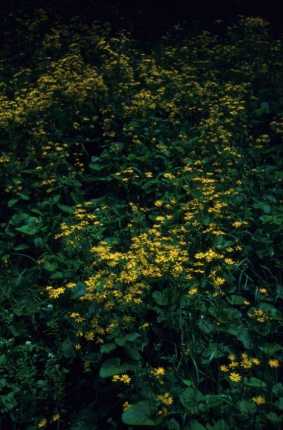 Description: Senecio is a perennial herb indigenous to North America, found in marshes, along streams and in other moist areas from Newfoundland to Florida and west to Wisconsin and Texas. The erect, grooved, brown-streaked stem grows up to 60cm tall and bears alternate, oblong or lanceolate, pinnatifid or lyrate leaves. There are also coarsely-toothed basal leaves which are cordate-ovate or reniform, long-petioled and sometimes purplish underneath. Flower heads with yellow rays and brownish discs grow in terminal corymbs from May to July.
Parts used: aerial parts
Collection: The herb should be collected just before the flowers open in summer.
Constituents: Pyrrolizidine alkaloids (senecifoline, senecine, florosenine, otosenine, floridanine), eremophilane sesquiterpenes, resins
Actions: Uterine tonic, womb relaxant, diuretic, mild expectorant, pectoral, astringent, emmenagogue
Indications: Functional amenorrhoea, menopausal neurosis; as a douche for leucorrhoea.
Therapeutics and Pharmacology: Senecio is a uterine tonic, often used for delayed or absent menstruation. It is also given to ease menopausal symptoms such as flushes and nervous and emotional upset. Topically, it may be used as a douche in the treatment of leucorrhoea. It also has a reputation as a general tonic for debilitated states such as tuberculosis.
Combinations: With Hypericum, Avena, Viburnum prunifolium and Anemone for menopausal disturbances; with Chamaelirium, Leonurus and Salvia in delayed menses.
Caution: Large doses may harm the liver, and this herb should be used only under the supervision of a qualified practitioner. It should be avoided during pregnancy. Senecio contains alkaloids which are known to be poisonous to livestock.
Preparation and Dosage: (thrice daily)
Dried herb: 1-4g or by infusion
Liquid Extract: 1:1 in 25% alcohol, 1-4ml
Additional Comments: Life Root was used by Native Americans to treat vaginal discharges, to speed childbirth and to induce abortion.
Bibliography
BHMA 1983 British Herbal Pharmacopoeia, BHMA, Bournemouth.
Grieve, M. 1931 A Modern Herbal, (ed. C.F. Leyel 1985), London.
Hoffmann, D. 1990 The New Holistic Herbal, Second Edition, Element, Shaftesbury.
Lust, J. 1990 The Herb Book, Bantam, London.
Polunin, M. and Robbins, C. 1992 The Natural Pharmacy, Dorling Kindersley, London.
Wren, R.C. 1988 Potter's New Cyclopaedia of Botanical Drugs and Preparations, C.W.Daniel, Saffron Walden.