Dog Rose (Rosa canina L, R.pendulina L)
Parts used: the rose hips, comprising the receptacle and the remains of the dried sepals
Constituents: Flavonoids, polyphenols, volatile oil, tannins, Vitamins A, C, B1, B2, B3, K, pectin
Pharmacopoeia Standard: the dried hips should contain no less than 0.3 per cent of ascorbic acid.
Actions: anti-inflammatory, antioxidant, nutritive
Indications: rheumatoid arthritis, osteoarthritis, cardiovascular disease
Applications: Scandinavian trials have demonstrated that rosehips can help alleviate the pain and stiffness associated with arthritis by reducing inflammation and tissue damage. Volunteers who took part in the trials reported that they were able to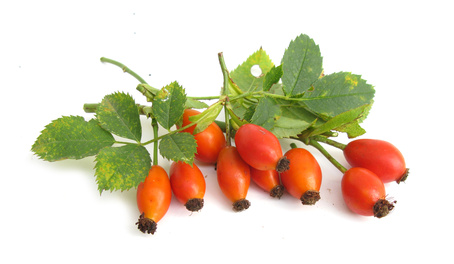 reduce their prescribed medication. Rosehips also help alleviate gastric inflammation. Their tannin content makes them a useful remedy for the treatment of diarrhoea.
Dosage: 1000g twice daily. Clinical trials have demonstrated that treatment should continue for at least three months to achieve significant improvement in arthritic conditions.
Did you know
that during the Second World War rosehip syrup was handed out to schoolchildren to compensate for lack of vitamins in the rationed diet. Rosehip tea was traditionally used to ward off colds and to treat infection.