Lamium album (L)
Synonyms and Common names: Archangel, , white archangel, blind nettle, dumb nettle, deaf nettle, bee nettle
German = Weiss taubnessel, French = Ortie blanche, Italian = Lamio bianco
Order: Labiatae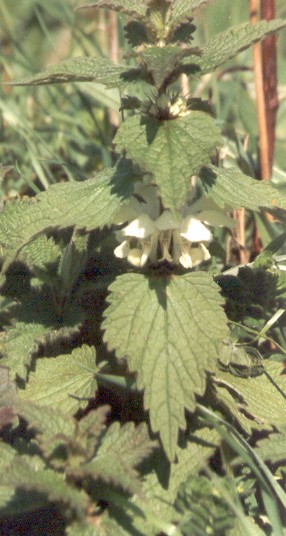 Description: Lamium album is a perennial which grows up to 50cm in height, with a richly-branched, slender rhizome and erect, unbranched, hairy stems which are often violet and swollen at the base. The leaves are opposite, the lower ones long-stalked and the upper short-stalked. They are oval in shape, with either a heart-shaped indentation or rounded at the stalk, pointed at the tip, and with coarsely-toothed margins. Clusters of sessile flowers grow from the axils of the upper leaves, and they have a bell-like, half-opened calyx divided into five tapering teeth, and a symmetrical, white or yellowish two-lipped corolla with a curved tube. Inside the corolla are two long and two short stamens with dark brown anthers. The superior ovary has two compartments with two seeds in each, which develop into black nutlets. The plant flowers in early spring and summer. It grows in woods, ditches, hedges and disturbed ground on lowlands and uplands. It is unrelated to the stinging nettle, Urtica dioica.
Parts used: corollas and flowering tops
Collection: from May to November during the flowering period.
Constituents: Tannins, amines (including histamine, tyramine, choline and methylamine), flavonoids based on kaempferol, saponins, mucilage, alkaloid (lamiine).
Actions: astringent, haemostatic
Indications: menorrhagia, leucorrhoea
Therapeutics and Pharmacology: The tannins in Lamium are responsible for its tranquillising, mildly astringent and haemostatic actions, while the saponins are responsible for a mild expectorant action. It may be used as a gargle for sore throats and inflamed gums, and as a compress for wounds, haemorrhoids, eczema and burns. It is a useful remedy in menorrhagia and intermenstrual bleeding, and for the regulation of intestinal activity and bowel movement. It is also used in the treatment of abnormal vaginal discharge. In France, it is used to cleanse the kidneys and to treat haematuria.
Preparation and Dosage:
Regulatory status: GSL Schedule 1
Lotion: a handful of fresh flowers to 2 pints boiling water
Additional Comments: Gerard described white dead-nettle as a plant 'to make the heart merry, to make a good colour in the face, and to make the vitall spirits more fresh and lively'. Children used to make whistles from the stems, and in the north-east of England, the leaves were often fed to young turkeys.
Bibliography
Bartram, T. 1995 Encyclopaedia of Herbal Medicine, 1st edn., Grace Publishers, Bournemouth.
Bremness, L. 1994 Herbs, Dorling Kindersley Eyewitness Handbook, London.
Chevallier, A. 1996 The Encyclopaedia of Medicinal Plants, Dorling Kindersley, London.
Gerard, J. 1633 The Herball or Generall Historie of Plantes, Facsimile Edition (1975), Dover Publications, New York.
Grieve, M. 1931 A Modern Herbal, (ed. C.F. Leyel 1985), London.
Prihoda, A. 1989 The Healing Powers of Nature, Octopus, London.
Vickery, R. 1995 A Dictionary of Plant Lore, Oxford University Press.
Weiss, R.F. 1991 Herbal Medicine, Beaconsfield Arcanum, Beaconsfield.
Wren, R.C. 1988 Potter's New Cyclopaedia of Botanical Drugs and Preparations, C.W.Daniel, Saffron Walden.