Fenugreek (Trigonella foenum-graecum L.)
Parts used: dried ripe seeds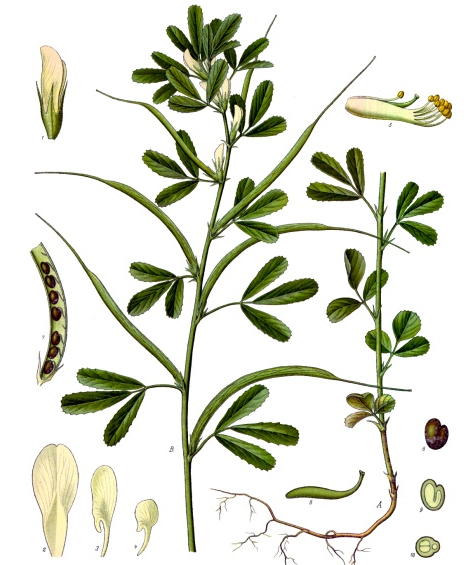 Constituents: steroidal saponins, mucilage polysaccharide, alkaloids (including trigonelline), proteins, free amino acids, saponin-hydrolysing enzymes, proteinase inhibitors, flavone glycosides, sterols, lecithin, choline
Actions: demulcent, hypoglycaemic, laxative, nutritive, expectorant, orexigenic. Used topically as an emollient for wounds.
Indications: diabetes mellitus, hypercholesterolaemia, dyspepsia, anorexia, gastritis, convalescence. Topically for boils, wounds, ulcers, eczema, myalgia, lymphadenitis, gout
Applications: Fenugreek is a bitter digestive remedy that stimulates the appetite and helps maintain a healthy digestive tract. The soothing mucilage component is of value in treating gastritis and gastric ulcers. It has been shown to reduce cholesterol and blood glucose levels, and can be taken to encourage the flow of breast milk. Applied topically, it has an anti-inflammatory action.
Safety: the absorption of other drugs may be affected by fenugreek's high mucilaginous fibre content. Contraindicated in pregnancy. Excessive doses may cause diarrhoea and flatulence.
Dosage
: 500mg three times a day