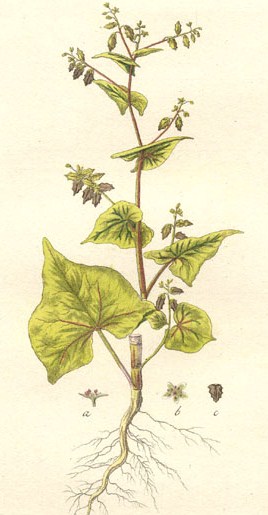 Buckwheat (Fagopyrum esculentum Moench.)
Parts used: dried leaves and flowers
Constituents: flavonoid glycosides (rutin, quercetin, hyperoside)
Actions: antihaemorrhagic, hypotensive, antioxidant
Indications: capillary fragility, retinal haemorrhage, frostbite, chilblains, hypertension, radiation damage
Applications: Buckwheat, rich in the bioflavonoid rutin, increases venous and capillary tone, making it an excellent remedy for alleviating the discomfort of varicose veins. Fragile capillaries causing easy bruising will also be strengthened by this herb. It can form part of a treatment plan for high blood pressure and is an excellent prophylactic for preventing hardening of the arteries. Buckwheat and lime juice is a specific remedy for retinal haemorrhage.
Combinations: with Vitamin C to reduce capillary permeability
Dosage
: 60mg twice daily. Absorption is enhanced if taken alongside Vitamin C or lemon juice.