Caulophyllum thalictroides (L)

Synonyms: Leontice thalictroides (L.), squaw root, papoose root, blue ginseng, yellow ginseng, beechdrops, blueberry
Order: Berberidaceae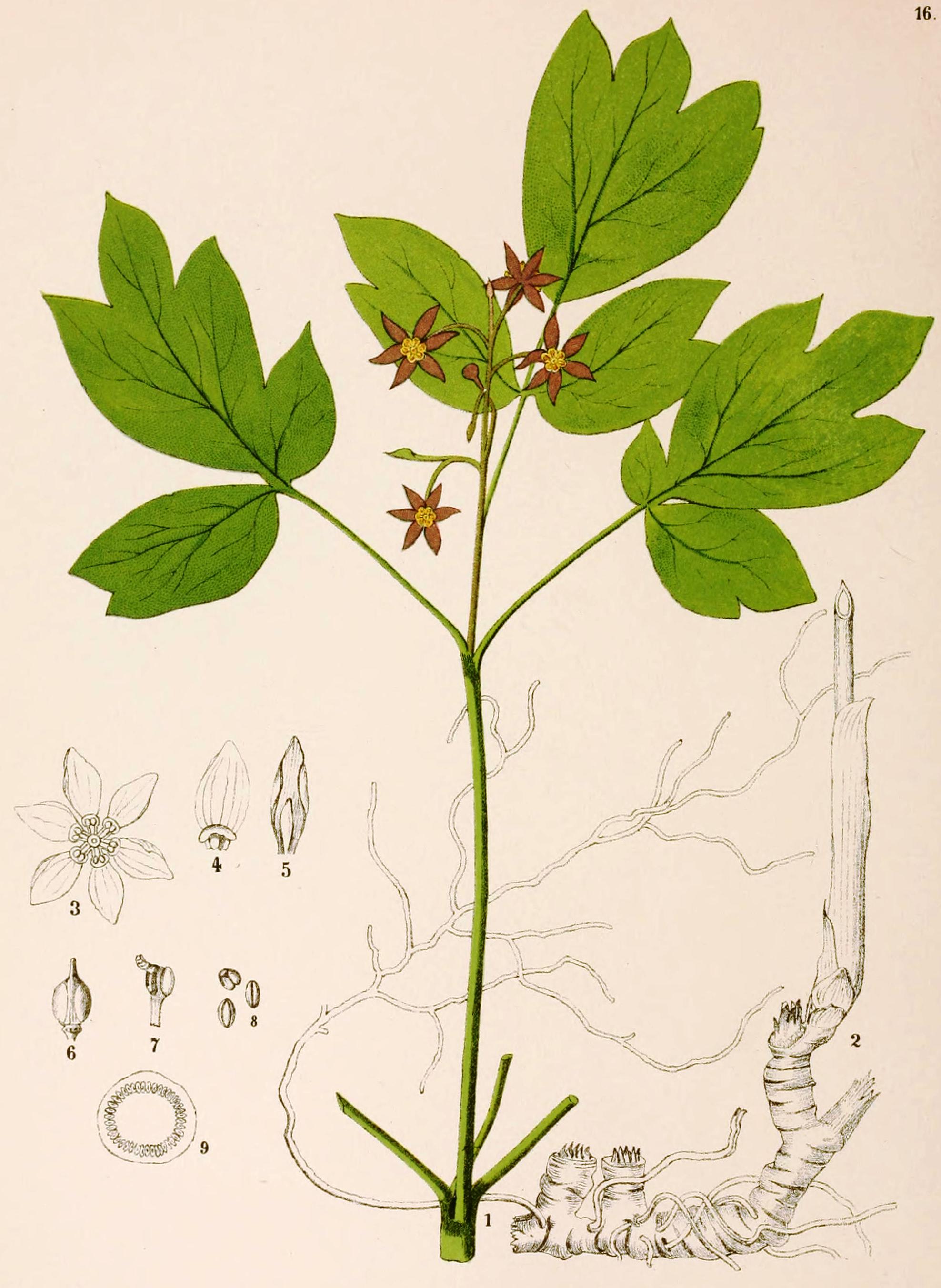 Description: Caulophyllum is a perennial herbaceous plant indigenous to the Eastern part of the USA and Canada where it prefers moist, rich soil. It grows up to a metre high and has a round, simple, erect stem, large three-lobed leaves and racemes of small yellow-green six-petaled flowers. The fruit is a pea-sized dark blue berry borne on a fleshy stalk. The rhizome is hard and knotted.
Parts used: rhizome and root
Collection: The roots and rhizome collected at the end of the growing season in autumn when they are at their richest in chemicals.
Constituents: Alkaloids (magnoflorine, laburnine, cytisine, caulophylline, anagyrine, baptifoline), steroidal saponins (including caulosapogenin)
Actions: Spasmolytic, emmenagogue, uterine tonic and stimulant, emmenagogue, anti-inflammatory, antirheumatic, strong expectorant, oxytocic, diuretic, anthelmintic
Indications: Amenorrhoea, threatened miscarriage, false labour pains, dysmenorrhoea, rheumatic pains.
Therapeutics and Pharmacology: Caulophyllum is indicated in any condition where there is weakness or loss of tone of the uterus. It eases the cramps of suppressed periods and the pain associated with pelvic inflammatory disease or fibroids, and may also be used in false labour pain or threatened miscarriage. During labour itself, Caulophyllum eases delivery. It has a tonic effect on the uterus and fallopian tubes and increases uterine muscle tone. It may be used in other cases where an antispasmodic action is required, such as colic, asthma or nervous cough. It has also been used to treat arthritis and rheumatism and to ease stomach cramps.
Combinations: Combines well in uterine weakness with Chamaelirium, Leonurus and Achillea.
Caution: Only small doses are advisable during the first trimester of pregnancy, and it is probably best not to take it at all until labour has commenced. Caulophyllum can be irritating to mucous membranes and may cause contact dermatitis. Children have been poisoned by the berries.
Preparation and Dosage: (thrice daily)
Regulatory Status GSL
Dried rhizome and roots: 0.3-1g or by decoction
Liquid Extract: 1:1 in 70% alcohol, 0.5-1ml
Additional Comments: Native American women drank an infusion of blue cohosh a few weeks before childbirth to make the birth process swift and easy, and also used it for cramps and children's colic. The Physiomedicalists used it to counter restlessness and pain during pregnancy and to reduce labour pains.
Bibliography
BHMA 1983 British Herbal Pharmacopoeia, BHMA, Bournemouth.
Grieve, M. 1931 A Modern Herbal, (ed. C.F. Leyel 1985), London.
Hoffmann, D. 1990 The New Holistic Herbal, Second Edition, Element, Shaftesbury.
Lust, J. 1990 The Herb Book, Bantam, London.
Mabey, R. (ed.) 1991 The Complete New Herbal, Penguin, London.
Mills, S.Y. 1993 The Essential Book of Herbal Medicine, Penguin, London (First published in 1991 as Out of the Earth, Arkana)
Mills, S.Y. 1993 The A-Z of Modern Herbalism, Diamond Books, London.
Ody, P. 1993 The Herb Society's Complete Medicinal Herbal, Dorling Kindersley, London.
Polunin, M. and Robbins, C. 1992 The Natural Pharmacy, Dorling Kindersley, London.
Wren, R.C. 1988 Potter's New Cyclopaedia of Botanical Drugs and Preparations, C.W.Daniel, Saffron Walden.