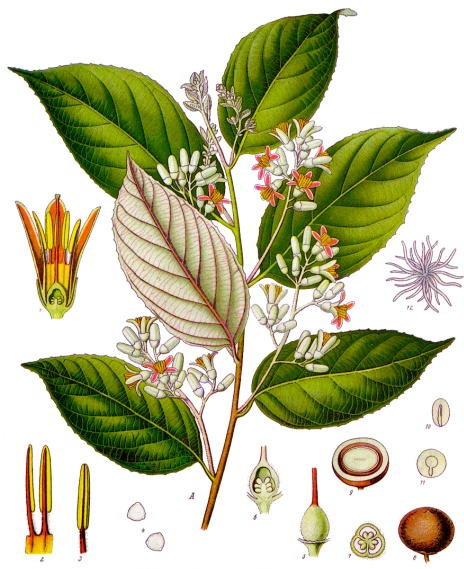 Styrax benzoin (Dry.)
Synonyms: S. paralleloneurus (Perkins), gum Benjamin, Sumatra benzoin, Palembang benzoin,
Order: Styraceae
Description: A tree native to Sumatra and Java
Parts used: gum, essential oil. Benzoin gum is obtained by making triangular cuts in the tree from which the sap exudes and hardens on exposure to air. The first exudate forms 'almonds' of benzoin, followed by greyish-brown resinous lumps. These are compressed together into a solid mass.
Constituents: Cinnamic, benzoic and sumaresinolic acid esters, benzoic acid, cinnamic acid, sumaresinolic acid, benzaldehyde, vanillin.
Actions: mild stimulant, expectorant, astringent, antispasmodic, antiseptic, carminative, diuretic.
Indications: colds, coughs, bronchitis, ulcers, wounds
Therapeutics and Pharmacology: Benzoin is an ingredient of Friar's Balsam which is widely used. It may be applied topically to wounds and ulcers to protect and disinfect the skin. It can also be used in the form of Compound Tincture of Benzoin as an inhalation for coughs, colds and bronchitis. It acts as a carminative when taken internally and is rapidly absorbed. It is also mildly expectorant, diuretic and antiseptic to the urinary passages.
Preparation and Dosage:
Regulatory Status: GSL
Available as Friar's Balsam and Benzoin Tincture B.P.C.
Additional Comments: Benzoin is used in the perfumery industry as an antioxidant and fixative.
Bibliography
Grieve, M. 1931 A Modern Herbal, (ed. C.F. Leyel 1985), London.
Ody, P. 1993 The Herb Society's Complete Medicinal Herbal, Dorling Kindersley, London.
Wren, R.C. 1988 Potter's New Cyclopaedia of Botanical Drugs and Preparations, C.W.Daniel, Saffron Walden.