Myroxylon pereirae (Klotsch)
Synonyms: Toluifera pereira, Myosperum pereira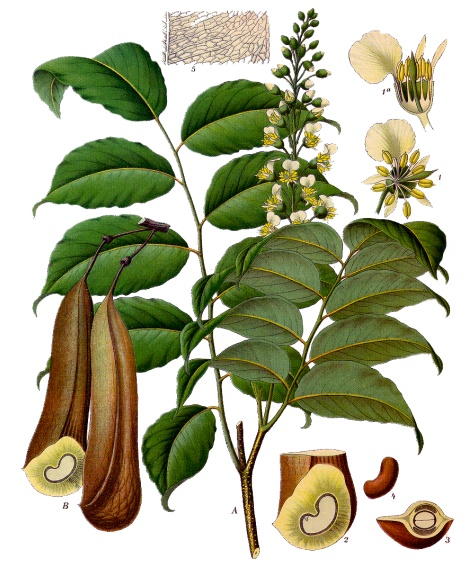 Order: Leguminosae
Description: Myroxylon is a tree native to Central America. It produces a mahogany-like wood. The smooth trunk is coarse grey, compact, heavily granulated and a pale straw colour. The tree becomes productive after five years and yields for thirty years.
Parts used: the balsam, an oleoresinous liquid, which exudes from the tree after the bark has been beaten and scorched. It is soaked up with rags and boiled with water to separate the balsam, which sinks to the bottom.
Constituents: 50-65% essential oil comprised mainly of benzyl benzoate, benzyl cinnamate, cinnamyl cinnamate, free benzoic and cinnamic acids, vanillin, farnesol, styrene, nerolidol and coumarin; 25-30% resin.
Actions: stimulant, expectorant, antiseptic, parasiticide.
Indications: used to treat catarrh and chronic bronchitis by lessening mucous secretions; diarrhoea and externally for wounds, ulcers, pruritis, nappy rash, sore nipples, eczema and ringworm. Coronary stimulant.
Caution: can cause an allergic reaction in some individuals
Preparation and Dosage:
Regulatory Status: GSL
Dose: 10-20 drops in syrup, or externally in an ointment base.
Additional comments: Peruvian balsam is used in soap manufacturing for its fragrance and soft, creamy lather.
Bibliography
Grieve, M. 1931 A Modern Herbal, (ed. C.F. Leyel 1985), London.
Wren, R.C. 1988 Potter's New Cyclopaedia of Botanical Drugs and Preparations, C.W.Daniel, Saffron Walden.