Non-UK customers MUST click here first and read instructions for ordering
Click here for ordering and shipping information
I shall be away from 20th January to 4th February 2018 inclusive. You may still place an order during this period, but it will not be dispatched until I return.
On-line shopping currently available only to UK customers. Just click on the items you wish to purchase, then scroll to the bottom of the page to view the contents of your shopping basket. You can continue to browse the store or proceed to checkout at any time. If you make a mistake, you will have the opportunity to edit your shopping basket. If you prefer to pay by cheque/PO, click here.
If you don't see what you want here, then try Amazon
A Short Guide to Medicinal Herbs and their applications
Christine Haughton is a Medical Herbalist who runs a busy rural practice near Malton in North Yorkshire. A member of the National Institute of Medical Herbalists, College of Practitioners of Phytotherapy and Royal Society for Public Health, she is committed to ensuring that the public is provided with accurate information about medicinal herbs and their applications. This short guide, covering 80 herbs, should be of interest to health professionals, students, and those seeking information on traditional herbal remedies. £4.99
Home-Grown Fruit by Jane Eastoe
What could be tastier than fruit, picked straight from your back garden? Growing your own fruit can be a rewarding pastime and you don't need a big garden or allotment to cultivate your favourite fruit, as they can grow well in containers and even hanging baskets. This beautiful and practical guide celebrates the produce of orchards, allotments and gardens, from rhubarb, gooseberries and strawberries to peaches, damsons and plums. Each fruit entry details its history and folklore with essential gardening notes and tips for successful growing. This is followed by a full selection of delicious recipes with a variety of sweet and savoury dishes to suit all tastebuds: rhubarb and ginger chutney, rabbit with damsons and plum and hazelnut cake. Illustrated throughout with beautiful photography and illustrations, you will find all you need for a fruitful, healthy garden all year round.
£6.99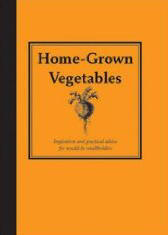 Home-Grown Vegetables by Diana Galligan
This practical guide celebrates the produce of allotments and gardens, from carrots and courgettes to artichokes and aubergines. Each vegetable entry details its history and folklore with essential gardening notes and tips for successful growing. This is followed by a selection of delicious recipes with a variety of dishes to suit all tastebuds, from hearty salads and mouthwatering soups to more substantial mains like roasted squash with red onion and stuffed courgette flowers. Illustrated throughout with beautiful photography and practical illustrations, you will find all you need for a healthy garden bursting with fresh produce all year round. £6.99
Imperfectly Natural Baby and Toddler by Janey Lee Grace is for all parents who want to nourish this precious time and do the 'natural' bits they can - imperfectly. If you knew where to find the best cream for that nappy rash without any chemicals - you'd buy it - right? If you could get some suggestions on what to do for certain ailments without resorting to medication - you'd take it. Janey will share all her secrets and top tips for living holistically - your family, your relationships, your health, your happiness, your eco-footprint. More 'eco-virgin' than 'eco-warrior' Janey takes an interest in sustainability and doing a bit - albeit imperfectly. And this book is not just about the kids. Parents have to remain sane in all of this, as well as happy, fulfilled and healthy, their needs are important too. So you'll find it all in here - from tips on breastfeeding and first foods, sleep (or lack of) to how to treat headlice and hyperactivity. Janey will share what she believes and why, and point the reader in the direction of more research and support. £14.99
Amberwood Books

Herbal First Aid: Herbal First Aid in the home, using plant medicines, is what this little book is all about. For the many people looking for a more gentle way to cope with everyday ailments and injury, this book is suitable for the modern medical chest. The author is the first medical herbalist to be attached to a NHS hospital.
£3.50

Plant Medicine : a Guide for Home Use: A simple guide explaining the properties of plant medicines and how to use them. Written by a qualified medical herbalist, this authoritative book provides sound advice on plant medicine and traditional remedies. As more and more people seek alternatives to chemical drugs, interest in natural remedies increases.
£3.99
Phytotherapy : 50 Vital Herbs: A fascinating read for lovers of herbal medicine. Fifty of the most useful plants available for self-medication are examined for best use, safety and efficacy. Recommended for people who want to learn about medicinal herbs, this is a truly valuable book. It is beautifully written, informative, and provides useful tips at the end of each profile.
£6.99

Herbal Teas: Over the last five years sales of herbal teas have increased by over 100%. Never has the demand for information been so great. Written by the past President of the National Institute of Medical Herbalists this little book contains all there is to know about herbal teas and their medicinal effects. It explains how to make a tea correctly, which herbs to select, and their health benefits.
£3.50 Currently Out of Print
Herbal Medicine for Children: A simple, easy to understand guide for parents who want to know about herbal medicine and appropriate natural treatment for their children. The author is a mother and medical herbalist and her understanding of childhood illnesses is clear.
£6.99
Herbal Medicine for the Menopause: This is an easy to understand reference guide to tried and tested herbs for the menopause according to symptoms. Clear guidelines are provided on self-help measures and a line is drawn indicating when it becomes advisible to consult a qualified practitioner. Herbal Medicine for the Menopause is a valuable asset to add to your bookshelf.
£5.99

Herbal Medicine for Dogs: So many dog owners would love to know how to use herbs to help their pets stay healthy. The author Mary Boughton is a manufacturer of veterinary herbal medicine and has been involved with herbs and dogs all of her life. A dog owners must have or ideal present for a precious pet.
£5.99
Insomnia: Doctor, I Can't Sleep With 25% of the adult population reporting sleeping difficulties this book is essential bedtime reading! Written by a doctor specialising in sleep disorders, it unlocks the mysteries of sleep and insomnia. Dr Williams explains what sleep is and what happens during sleep. Sleeping disorders are examined and advice is given on self treatment.
£2.99

Ginkgo biloba Ancient Medicine: Ginkgo is a herb enjoying phenomenal popularity. Annual European sales exceed $500 million. In Germany 5 million prescriptions are written for Ginkgo every year. Dr. Desmond Corrigan examines the medical research supporting the benefits for sufferers of memory loss, confusion, lack of concentration, strokes, vascular diseases and other symptoms.
£2.99
Vitex agnus-castus - Women Medicine: Simon Mills explains why women have taken Vitex Agnus Castus as a medicine throughout the ages and draws on recent research to support its historical use. The author examines the medicinal properties of this remakable herb and its use for symptoms relating to menstruation and the menopause.
£2.99

Echinacea - Indian Medicine: Native Americans used echinacea both as a cure-all and to maintain strength and health. This book draws on the latest research confirming the herb's abilities to stimulate the immune system. The author establishes benefits and safety in the treatment of general infections, ulcers, influenza and skin conditions such as eczema and psoriasis.
£2.99
How Garlic Protects Your Heart: Garlic has been used as a medicine for over 4,500 years and is now taken as a supplement by millions of people throughout the world. Written by one of the world's leading experts, it explains why this natural remedy might yet become one of medicine's 'magic bullets'. Professor Edzard Ernst examines the compelling evidence supporting garlic's effect in reducing cardivascular disease, the number one killer in the western world.
£3.99
Aromatherapy - Stress Management: Another title in the best selling Aromatherapy 'Guide' series. This book concentrates on alleviating stress through using pure essential oils. Advice is given on treatments whilst case histories together with a stress quiz enable the reader to evaluate their own levels of stress.
£3.50

Arthritis and Rheumatism: This beautifully written book is essential reading for all sufferers of arthritis or rheumatism. It covers drug therapy, soft tissue damage, bone disorders, treatment and complementary care. It is a complete guide to the painful and sometimes progressive disease whilst offering many useful tips to alleviate some symptoms. All who have read Dr Cosh's book have been impressed with the extensive information and readable style.
£4.95

The Baby Book Aromatherapy is used in the home for health and well-being. Understanding safety issues is important but never more so than when babies and infants are involved. This delightful book makes the therapy practical for parents to use with their children from birth. Good safe advice and the pleasure for baby and mum that can come from massage is covered in detail. The perfect present when a new baby arrives.
£3.99
The Pregnancy Book Midwife Jenny Supper has many years experience of bringing new people into the world. Her book deals with making the birthing process pleasurable by using beautiful aromas to calm tension and for natural pain relief. With hilarious cartoons and a section on 'the pregnant dad', this book combines fun with serious information for 'mums and dads to be'.
£5.99
Aromatherapy - a guide for home use: a best selling beginners guide to the art and science of aromatherapy. Includes sections on the individual oils and easy-reference ailments index. All you need to know to enjoy the health and psychological benefits of pure essential oils
£1.99
Aromatherapy - Simply for You: A simple and thorough guide to aromatherapy. Easy reference chapters explain everything from purchase and storage of essential oils to the beneficial effects to be had from their use. A perfect book for beginners.
£2.99

Aromatherapy for Healthy Legs and Feet: An illustrated reference book providing both the lay person and aromatherapists alike with a comprehensive guide to using pure essential oils in the treatment of afflictions of the legs and feet. Includes illustrated massage instructions and sections on cellulite, varicose veins and swollen ankles.
£3.99
Aromatherapy - A Nurses Guide: The authoritative book, written by a state registered nurse and qualified aromatherapist, designed to enable the lay person to learn about aromatherapy in a medical context. Containing easy to follow recipes and massage techniques for a whole variety of conditions.
£3.50

Aromatherapy : a Nurses Guide for Women: This guide concentrates on women's health. Clear and concise information is given on the use of essential oils to promote good health. Easy reference guides provide comprehensive information enabling the recognition of symptoms of ailments affecting women.
£2.99

Aromatherapy Lexicon - The Essential Reference: An informative Lexicon remarkable for its simplicity and making aromatherapy easy. The authors have combined their talent and years of experience to make essential oil therapy available to everyone at the touch of a wheel. This form of reference will give endless pleasure to beginners as well as practised aromatherapists.
£4.99
The Chemistry and Bioactivity of Essential Oils: This fascinating book is a must for all those with an interest in science and Aromatherapy. Containing a comprehesive list of oils in reference format. Details of scientific analysis, with chapters examining the history and methodology of arompatherapy and the sense of smell.
£5.99
Aromatherapy - Essential Oils in Colour: Exploring the chemistry of pure essential oils in colour gives the anceint art of Aromatherapy a completely new twist. Seeing the reason why oils can be stimulating, powerful or gentle is not only educational but also extremely fascinating. Rosemary Caddy's book will be valued by everyone interested in complementary medicine. Recommended for qualified aromatherapists, students and new converts alike.
£10.99
Aromatherapy - The Essential Blending Guide: With the success of Rosemary Caddy's first book 'Essential Oils in Colour', the blending guide is available for aromatherapists and users alike. Ailments are alphabetically listed and precise recipes are given showing how many drops required to achieve the best remedy for each case. Anyone can be competent in making pure blends when referring to this excellent book - practitioners and users will want a copy.
£12.99
"SO, WHAT DO YOU EAT?" by Liz Cook
A practical guide to healthy, balanced, animal-free family nutrition and easy family meals. This book contains a useful nutritional guide as well as 78 beautifully illustrated recipes that can be easily prepared by anyone with basic cooking skills . 72 spiral-bound pages. The pages are wipe-clean.

£12.95

WALL CHARTS

These useful wallcharts are beautifully illustrated in full colour and have a wipe-clean surface. Guaranteed to brighten up any wall.

NEW

Essential Oils
What to use for what? What to mix with what? And how to use them for whom? This chart provides some answers. "The 16 Essential Oils for Home Use" is a comprehensive at-a-glance chart created in conjunction with Sophia Bee, who qualified in Holistic and Clinical Aromatherapy through AAPA at Essential Care Training in South London in 1999. 88cm x 18cm £4.95
You and Your Dog

This chart is an at-a-glance reference and reminder of the guidelines that help you, your family and your dog create a happy and stress-free relationship. Based on understanding a dog's needs and behaviour, this wallchart is ideal for children, new dog owners or just for general support for anyone. 88cm x 18cm £4.95
Natural First Aid Remedies
From cuts and bruises to verrucas and warts this chart will show you proven natural first aid remedies. It covers everything from the well known - arnica for bruises, to the unusual - banana skins for warts!
88cm x 18cm
£4.95
Nutritional Wall Chart
A highly informative chart giving details of which foods one should eat to obtain the necessary vitamins, minerals, fibre, carbohydrates, protein and essential fatty acids. Suitable for vegetarians and vegans.
18cm x 88cm
£4.95
The Rainbow Food Activity Chart

Specially for the kids, this will help ensure their daily intake of the nutritious fruit & veg colour groups in the recommended five portions a day. This chart comes with reusable stickers (seven each of five different designs) and the aim is for each child to put one sticker in each colour group each day. 18cm x 88cm.
£5.10
NEW Seasonal Fruit and Vegetables Chart
We know that it is better to eat local, seasonal produce. Better for us and for the planet. We often don't, as we are not really sure what is in season... hence this handy chart... A decorative, at a glance, general guide to which popular U.K. fruit and vegetables are in season. It shows which produce is available all year round, which for some months only and whether from stores or fresh.
£4.95
Yoga Practice Chart

Work your way through the exercises and see the difference! 18cm x 88cm
£4.95
NEW
Your Yoga Chart
Designed as a stand-alone chart or as a companion to the Yoga Practice Chart, "Your Yoga" is an encouragement to explore and develop an individual yoga practice. Created in association with yogi and teacher Steve Bracken, with a range of poses to provide a balance of standing, seated, lying, twisting, dynamic and resting poses as well as a very useful breathing exercise (pranayama).
£4.95
A Woman's Healing Herbs
Lavishly illustrated chart with information on which herbs should be used for a wide range of women's conditions. 18cm x 88cm
£4.95
Natural Cleaning Solutions
Natural, simple and effective cleaning ideas for your home that are better for the environment and for you.
£4.95